13 Popular Architecture Styles for Homes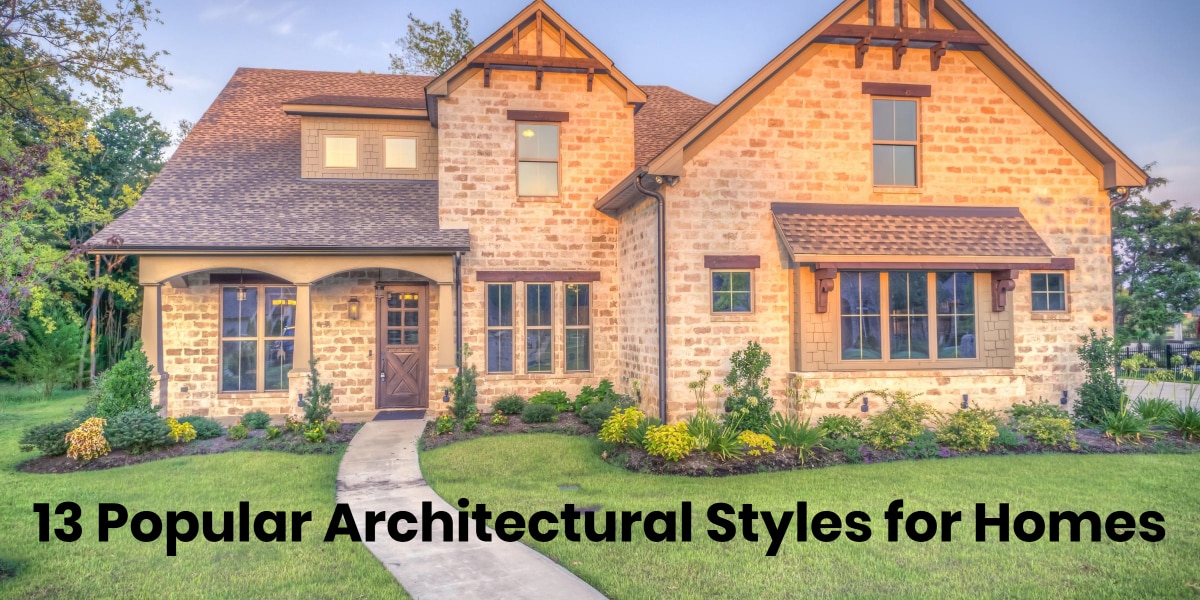 One of the first steps in planning and designing your own home is selecting the floor plan and architectural style you want. Because each style of home has its own unique characteristics and floor plans, choosing your style first means many of your other decisions will be dictated by the style you choose.
To help you make your decision, here are 13 popular home architectural styles:
Cape Cod
Though most Cape Cod-style homes in the United States were built after World War II, the style originated in the 1600s. This style is characterized by its two-story layout, with the master bedroom typically located on the main floor. Cape Cod homes have steep roofs and large chimneys to withstand the cold winters in the Northeast.
Craftsman
This style of home emphasizes the use of natural materials – wood, stone, or brick – and features lots of built-in furniture inside. An open floor plan is paired with these natural materials to keep the interior from feeling closed-in. Craftsman homes have wide front porches and low pitched roofs.
Colonial
Another architectural style born our of the 1600s, "Colonial" actually encompasses a variety of sub-styles. However, all Colonial-style homes typically share an emphasis on symmetry, with evenly spaced shuttered windows. Exterior elements also tend to be evenly proportioned, including dormers, columns, and chimneys.
Dutch Colonial
A sub-style of Colonial, Dutch Colonial homes feature a broad gambrel roof, with shingles extending down over the top floor. These homes also have dormers, flared eaves that extend over the porch, and a decorative hood over the front door. Some Dutch Colonial homes feature Dutch double doors, where the top of the door swings independently of the bottom, originally intended to allow air into the home without letting farm animals inside.
Georgian Colonial
This is the most common and simplest of the common Colonial styles. It features the basic box shape and two stories. The front door usually is paneled and sits under a decorative overhang that's framed by simple columns.
Federal Colonial
Far more ornate than Georgian Colonial style, Federal Colonial architecture is modeled after Roman classicism. This style features extra wings extending off the basic box shape and more decorative embellishments on the exterior. Most often, Federal Colonials feature a brick exterior.
Mid-Century Modern
Popular in the middle third of the 20th century, mid-century modern homes feature lots of flat planes, large glass windows, and open space. They take advantage of materials made readily available after World War II, including steel and plywood.
Greek Revival
Commonly found on large estates and old plantations, Greek Revival architecture is characterized by its tall columns and pediments, often with painted plaster exteriors. These homes are symmetrical in shape, and feature imposing, bold molding and embellishments.
Mediterranean
Popular from after World War I to the early 1980s, Mediterranean architecture featured red tile roofs, arches, and plaster surfaces. Many also include ornate exterior elements, such as porticos, balconies, and ornamental details – heavy wooden doors or multicolored tiles, for example.
Modern
Inspired by the modernist art movement, Modern homes feature open living spaces and clean, geometric lines. The focus of Modern design is function over form, so there is usually very little in the way of embellishment on these homes.
Ranch
Usually single-story, Ranch-style architecture is somewhat similar to Modern architecture with its open floor plans and emphasis of function over design. Ranch homes usually locate the bedrooms in one wing and the common living areas – kitchen, living room, etc. – in another wing. Many also feature attached garages.
Tudor
Often found in the Midwest and along the East Coast, Tudor homes have steeply-pitched, multi-gabled roofs. The decorative half-timber framing, often paired with a brick exterior, is one of the features that makes this style one of the most recognizable in American architecture.
Victorian
Similar to Colonial architecture, there are many sub-styles of Victorian homes – Queen Anne, Romanesque, and Gothic revival, for example. Among the most ornate of all architectural styles, Victorians focused on beauty over function. Common traits include ornate trim, bright colors, large porches, asymmetrical shapes, and multi-faceted roof lines.
Experienced Drafting & Design Services in Central Maryland
At Irvine Construction, our talented draftsman can turn your custom home dreams into reality. Whether you're looking for someone to draw up your unique home design plans or you want a full-service design and build firm, we can help you get the home you desire. Contact us today to discuss our drafting and design or design and build services.