Partial Second Floor Addition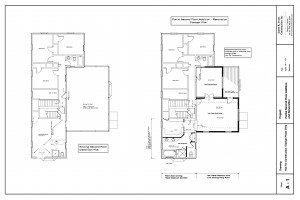 Cramped for space, need to expand, or improving your existing floor plan? One solution would be to add a partial second floor addition. This type of renovation can be done by building over a garage, family room, sun room, or raising the roof, converting an attic and / or adding dormers of several types. Often this method also includes reconfiguring some portion of the existing floor plan to improve the overall use of space and traffic pattern. As we proceed through the design phase of the process, the task is to design the second floor extension to be in harmony with the existing home, but include elements that will be aesthetically pleasing and avoid the "box" appearance.
Partial 2nd Floor Addition Advantages:
Excludes cost of foundation, excavation, and related site work
No disruption to existing landscape, retain open yard area
Can be easier to extend electrical, plumbing, and HVAC
Good cost vs. value – Can be less expensive than other types of additions and renovations
Best and possibly the only option for small lots where building restriction lines and setbacks prohibit expanding the footprint
Partial 2nd Floor Addition Disadvantages:
Can be more disruptive to the home during construction
Existing home may need structural modifications to support the new space
Systems may need to be upgraded
Height restrictions can limit design options
Please contact us for a consultation to determine what would be the best solution for adding additional space to your home.
Sample projects and drawings of our design and build work for completed partial second floor additions in Montgomery County, MD:
One Response