Best Flooring Types for Historic Renovation Kitchens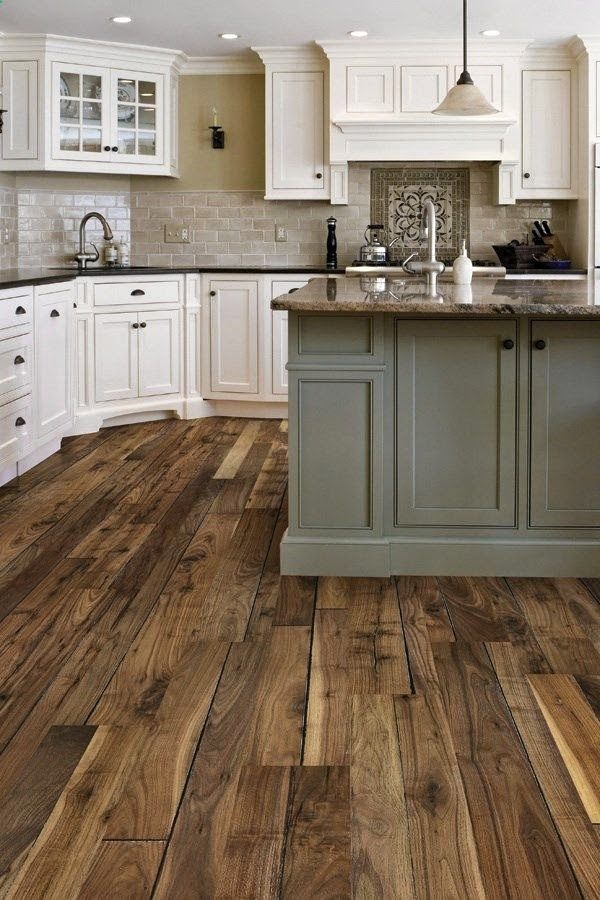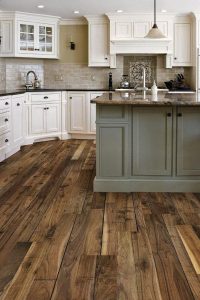 Renovating any kitchen can be a major project, but creating the feel of a specific time period brings a whole new collection of challenges. Picking the right floor material can be key to pulling all of the elements of your renovation together. Here are some of the best options available for your historic kitchen renovation.
Stone
Stone is labor-intensive to install, but can last a long time with proper maintenance. Stone naturally provides a unique look and feel and can be assembled in a near limitless number of patterns. One thing to keep in mind: stone is porous, and it's important to clean up any spills as soon as possible. If spills are absorbed by stone, it will begin to stain very easily. Stone is maintained through thorough cleaning, buffing, and sealing in order to prevent staining as much as possible. If well-cared-for, stone can be used as a flooring option for over 100 years.
Brick
Used as a flooring material since at least the 15th century, brick is a solid option that has been adapted for modern installation. In the American colonial period, full pavers were used as flooring for above-ground basements and kitchens. Today, companies produce thin brick tiles composed of the same material as heftier traditional brick which provide the same aesthetic, but are more practical for modern use. Unpainted color options are limited to reds and browns, but the real choice with brick is expressed through pattern. This material does require some regular cleaning with warm water and mild soap, followed by a brick sealer. If one of the brick tile is damaged, it can be chipped away and replaced. With some care, brick floor can be used reliably for over 40 years.
Linoleum
First made in 1864 from cork and linseed oil, today's linoleum is often produced using solidified linseed oil, pine rosin, cork dust, wood flour, and fillers such as calcium carbonate. These materials are applied to a burlap or canvas backing. Linoleum has the advantage of being available in a plethora of colors and patterns. It is naturally porous, so moisture is the primary enemy of linoleum. Liquids and spills should be cleaned up quickly to prevent the material from soaking up the moisture. By keeping the surface clean, and buffing and waxing annually, linoleum will last over 50 years.
Cork
Originally used in homes in the early 20th century, cork is an environmentally friendly choice that provides a natural aesthetic. This material is porous and requires annual sealing using wax or polyurethane; however, you may be able to get away with a more relaxed sealing schedule if the area is used less often. Like linoleum, if you properly care for your cork floors, you can expect to get over 50 years of life out of them.
Mosaic Tile
Appearing in the 1860s, mosaic tile is a classically American choice for both bathrooms, kitchens, and entryways. Made from ceramic tile that is adhered to a mesh backing, this material's ease of installation is an added plus. Tile is available in a wide variety of colors, and – as the name implies – individual tiles help create the overall pattern once assembled. Mosaic tile does require some cleaning with warm water and mild soap from time to time, and matte-finished tile can be waxed to help seal it. With some care, you will be able to enjoy your mosaic tile floor for more than 50 years.
Vinyl
Vinyl Composition Tile – or VCT – became popular in the late 1940s as a standard option for all hard-surface applications. VCT was first used in commercial and institutional settings as a cheap and easy-to-maintain flooring option that was durable and could withstand machine-cleaning with scrubbers and buffers. Today, it's an economical option that keeps its durability and provides a wide range of color options. If maintained through cleaning, buffing, and sealing, VCT will give you anywhere from 10 to 30 years of use.
Reclaimed Wood
The ultimate in eco-friendly flooring, reclaimed wood has gained popularity in recent years. Most reclaimed wood comes from old buildings, barns, and rural structures up to 100 years old. It gives an earthy, natural feel to your home as well as an added history. With the high demand for this resource, reclaimed wood can become very expensive and can be the target for knockoffs. Most reclaimed wood floors can be cared for the same as any wood floors – sweeping, mopping with vinegar or a light soap, and sealing when necessary.
At Irvine Construction, we aim to help get your historic restoration home into tip-top, better-than-before shape. We'd love to help you select just the right flooring for your historic renovation kitchen – contact us today!